Mit dem Over The Air Update kann man einen neuen Sketch über eine WLAN-Verbindung auf ein ESP8266 Modul wie z. B. dem Wemos D1 hochladen. Ein kleiner Nachteil, der Serial Monitor funktioniert leider nicht ohne direkte USB-Verbindung. Probiert man es dennoch den Serial Monitor zu starten, erscheint die Fehlermeldung "Serial monitor is not supported on network ports such as X.X.X.X for the null in this release" und es passiert nichts. Ein Wifi Telnet Server kann Abhilfe schaffen und erlaubt ein Debugging über das Telnet Protokoll im gesamten Netzwerk. Es wird dafür keine Arduino IDE benötigt, ein einfacher Telnet Client wie PuTTY reicht aus.


Der Wifi Telnet Server ist so aufgebaut, dass er mehrere Telnet Verbindungen annehmen kann. Das ist gerade in komplexen Projekten sehr praktisch, denn so können auch mehrere Personen gleichzeitig die Meldungen lesen. Wurde die im Sketch definierte maximale Anzahl von Verbindungen (MAX_TELNET_CLIENTS) erreicht, werden weitere Verbindung abgelehnt. Wird eine Verbindung geschlossen, kann die Sitzung wieder für eine neue Verbindung verwendet werden. Wenn ihr noch mit dem ESP8266 verbunden seid, seht ihr die einzelnen Telnet Verbindungen im Serial Monitor.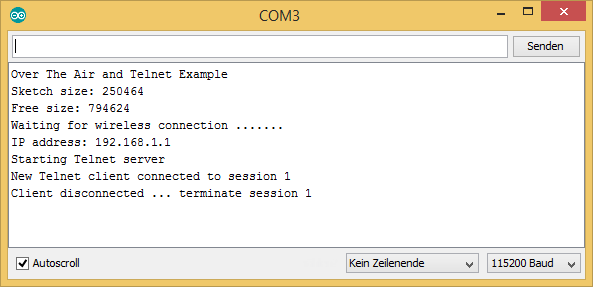 Als Telnet Client auf einem Windows Endgerät kann ich PuTTY empfehlen oder ihr installiert den Windows Telnet Client. Für Android oder iOS gibt es genügend (freie) Apps. Das Telnet nicht gerade das sicherste Protokoll ist muss ich hier hoffentlich nicht erwähnen?!
Telnet Nachricht senden
Um eine Nachricht an jeden verbundenen Telnet Client zu senden, habe ich eine kleine Funktion (TelnetMsg) erstellt. Ihr könnt diese anstelle oder zusätzlich zu Serial.print in den Sketch einbauen.
Mit dem folgenden Beispiel kann z. B. ein Text (ledStateMsg) mit einem Status (ledState) an die Funktion übergeben werden.
String

ledStateMsg

=

"LED State = "

;
Ihr könnt natürlich auch die einfache Variante wählen und die Funktion direkt aufrufen.
TelnetMsg

(

"Dies ist ein Test"

)

;
Sketch
Ihr müsst im Sketch mindestens die folgenden Zeilen anpassen damit auch eine WLAN Verbindung aufgebaut wird! Die IP Adresse findet ihr dann im Serial Monitor oder auf dem DHCP Server / Router.
const

char

*

ssid

=

"SSID"

;

const

char

*

password

=

"PASSWORD"

;
Im Sketch ist das bereits bekannte Over The Air Update und der Wifi Telnet Server mit allem was dazugehört enthalten. Zum Test habe ich noch eine LED Blink Funktion mit Telnet Ausgabe eingebaut. Der Wifi Telnet Server funktioniert natürlich auch ohne die Over The Air Update Funktion! Der Sketch ist so aber eine gute Grundlage für ein Projekt mit einem ESP8266 Modul.
In diesem Sketch geht es nur um die Ausgabe auf dem Telnet Client. Eingaben imTelnet Client werden aktuell nur auf der seriellen Konsole ausgegeben und nicht weiter verarbeitet.
1

2

3

4

5

6

7

8

9

10

11

12

13

14

15

16

17

18

19

20

21

22

23

24

25

26

27

28

29

30

31

32

33

34

35

36

37

38

39

40

41

42

43

44

45

46

47

48

49

50

51

52

53

54

55

56

57

58

59

60

61

62

63

64

65

66

67

68

69

70

71

72

73

74

75

76

77

78

79

80

81

82

83

84

85

86

87

88

89

90

91

92

93

94

95

96

97

98

99

100

101

102

103

104

105

106

107

108

109

110

111

112

113

114

115

116

117

118

119

120

121

122

123

124

125

126

127

128

129

130

131

132

133

134

135

136

137

138

139

140

141

142

143

144

145

146

147

148

149

150

151

152

153

154

155

156

157

158

159

160

161

162

163

164

165

166

167

168

169

170

171

172

173

174

175

176

177

178

179

180

181

182

183

184

185

186

187

188

189

190

191

192

193

194

195

196

197

198

199

200

201

202

203

const

char

*

ssid

=

"SSID"

;

const

char

*

password

=

"PASSWORD"

;

bool

ConnectionEstablished

;

// Flag for successfully handled connection

#define MAX_TELNET_CLIENTS 2

WiFiServer

TelnetServer

(

23

)

;

WiFiClient

TelnetClient

[

MAX_TELNET_CLIENTS

]

;

Serial

.

println

(

"Over The Air and Telnet Example"

)

;

Serial

.

printf

(

"Sketch size: %u\n"

,

ESP

.

getSketchSize

(

)

)

;

Serial

.

printf

(

"Free size: %u\n"

,

ESP

.

getFreeSketchSpace

(

)

)

;

WiFi

.

begin

(

ssid

,

password

)

;

// ... Give ESP 10 seconds to connect to station.

unsigned

long

startTime

=

millis

(

)

;

Serial

.

print

(

"Waiting for wireless connection "

)

;

while

(

WiFi

.

status

(

)

!=

WL_CONNECTED

&&

millis

(

)

-

startTime

<

10000

)

while

(

WiFi

.

status

(

)

!=

WL_CONNECTED

)

Serial

.

println

(

"Connection Failed! Rebooting..."

)

;

Serial

.

print

(

"IP address: "

)

;

Serial

.

println

(

WiFi

.

localIP

(

)

)

;

Serial

.

println

(

"Starting Telnet server"

)

;

TelnetServer

.

setNoDelay

(

true

)

;

pinMode

(

BUILTIN_LED

,

OUTPUT

)

;

// initialize onboard LED as output

// ArduinoOTA.setPort(8266);

// Hostname defaults to esp8266-[ChipID]

// ArduinoOTA.setHostname("myesp8266");

// No authentication by default

ArduinoOTA

.

setPassword

(

(

const

char

*

)

"1234"

)

;

ArduinoOTA

.

onStart

(

[

]

(

)

{

ArduinoOTA

.

onProgress

(

[

]

(

unsigned

int

progress

,

unsigned

int

total

)

{

Serial

.

printf

(

"Progress: %u%%\r"

,

(

progress

/

(

total

/

100

)

)

)

;

ArduinoOTA

.

onError

(

[

]

(

ota_error_t

error

)

{

Serial

.

printf

(

"Error[%u]: "

,

error

)

;

if

(

error

==

OTA_AUTH_ERROR

)

Serial

.

println

(

"Auth Failed"

)

;

else

if

(

error

==

OTA_BEGIN_ERROR

)

Serial

.

println

(

"Begin Failed"

)

;

else

if

(

error

==

OTA_CONNECT_ERROR

)

Serial

.

println

(

"Connect Failed"

)

;

else

if

(

error

==

OTA_RECEIVE_ERROR

)

Serial

.

println

(

"Receive Failed"

)

;

else

if

(

error

==

OTA_END_ERROR

)

Serial

.

println

(

"End Failed"

)

;

ArduinoOTA

.

handle

(

)

;

// Wait for OTA connection

Telnet

(

)

;

// Handle telnet connections

void

TelnetMsg

(

String

text

)

for

(

i

=

0

;

i

<

MAX_TELNET_CLIENTS

;

i

++

)

if

(

TelnetClient

[

i

]

||

TelnetClient

[

i

]

.

connected

(

)

)

TelnetClient

[

i

]

.

println

(

text

)

;

delay

(

10

)

;

// to avoid strange characters left in buffer

// Cleanup disconnected session

for

(

i

=

0

;

i

<

MAX_TELNET_CLIENTS

;

i

++

)

if

(

TelnetClient

[

i

]

&&

!

TelnetClient

[

i

]

.

connected

(

)

)

Serial

.

print

(

"Client disconnected ... terminate session "

)

;

Serial

.

println

(

i

+

1

)

;

// Check new client connections

if

(

TelnetServer

.

hasClient

(

)

)

ConnectionEstablished

=

false

;

// Set to false

for

(

i

=

0

;

i

<

MAX_TELNET_CLIENTS

;

i

++

)

// Serial.print("Checking telnet session "); Serial.println(i+1);

TelnetClient

[

i

]

=

TelnetServer

.

available

(

)

;

Serial

.

print

(

"New Telnet client connected to session "

)

;

Serial

.

println

(

i

+

1

)

;

TelnetClient

[

i

]

.

flush

(

)

;

// clear input buffer, else you get strange characters

TelnetClient

[

i

]

.

println

(

"Welcome!"

)

;

TelnetClient

[

i

]

.

print

(

"Millis since start: "

)

;

TelnetClient

[

i

]

.

println

(

millis

(

)

)

;

TelnetClient

[

i

]

.

print

(

"Free Heap RAM: "

)

;

TelnetClient

[

i

]

.

println

(

ESP

.

getFreeHeap

(

)

)

;

TelnetClient

[

i

]

.

println

(

"----------------------------------------------------------------"

)

;

ConnectionEstablished

=

true

;

// Serial.println("Session is in use");

if

(

ConnectionEstablished

==

false

)

Serial

.

println

(

"No free sessions ... drop connection"

)

;

TelnetServer

.

available

(

)

.

stop

(

)

;

// TelnetMsg("An other user cannot connect ... MAX_TELNET_CLIENTS limit is reached!");

for

(

i

=

0

;

i

<

MAX_TELNET_CLIENTS

;

i

++

)

if

(

TelnetClient

[

i

]

&&

TelnetClient

[

i

]

.

connected

(

)

)

if

(

TelnetClient

[

i

]

.

available

(

)

)

//get data from the telnet client

while

(

TelnetClient

[

i

]

.

available

(

)

)

Serial

.

write

(

TelnetClient

[

i

]

.

read

(

)

)

;

////////////////////////////////////////////////////////////////////////////////////////

// Blink function with telnet output

const

long

interval

=

2000

;

unsigned

long

previousMillis

=

0

;

unsigned

long

currentMillis

=

millis

(

)

;

// if enough millis have elapsed

if

(

currentMillis

-

previousMillis

>=

interval

)

previousMillis

=

currentMillis

;

digitalWrite

(

BUILTIN_LED

,

ledState

)

;

String

ledStateMsg

=

"LED State = "

;